You are viewing page 2 of 5.
Jan 22, 2010
The band formed last year by most of members of Evanescence circa Fallen has its first single going out officially on February 2. Not surprisingly, it is "Bury Me Alive," which was played at the band's media premier last June. You can hear it over on their site.
Sep 09, 2009
Is it just me, or is it extremely encouraging that a song that has been consistently sitting near the top of both country and A/C charts for the better part of the year alludes to two major pieces of literature, one of which forms the overarching conceit for the song?
Of course, it will be a sad day when a teacher gets an essay exam back with the answer to "Who was Romeo?" being "a character in a song by Taylor Swift." Sad, but inevitable.
Sep 05, 2009
Melissa tagged me on Facebook with a meme in which one takes a recording artist's song titles and attempts to answer a series of questions using only those titles. It was a challenge, but I thought I'd give it a go:
1. Pick your Artist:


EVANESCENCE

2. Are you a male or female:
THE ONLY ONE

3.Describe yourself:
IMAGINARY

4. How do you feel:
HAUNTED

5. Describe where you currently live:
GOOD ENOUGH

6. If you could go anywhere, where would you go:
YOUR STAR

7. Your favorite form of transportation:
GOING UNDER

8. Your best friend is:
TAKING OVER ME

9. You and your best friend are:
FARTHER AWAY

10. What's the weather like:
WHISPER

11. If your life were a TV show, what would it be called:
ALL THAT I'M LIVING FOR

12. What is life to you:
SWEET SACRIFICE

13. Your current relationship:
MISSING

14. Your fear:
MY IMMORTAL

15. What is the best advice you have to give:
LOSE CONTROL

16. Thought for the Day:
LACRYMOSA

17. How you would like to die:
MY LAST BREATH

18. Your soul's present condition:
TOURNIQUET

19. My motto:


BRING

ME TO

LIFE



Aug 24, 2009
The majority of the Fallen-era Evanescence has regrouped as "We are the Fallen." This notably including Ben Moody and John LeCompt, the two lost pieces of the ever firing and hiring band known as Evanescence that I think were the biggest losses. The band lives up to its name in ways. While I am not nearly as critical of the Open Door era Evanescence as many — I actually have grown to like that album quite a bit — I do think the firing of LeCompt afterward it came out was a huge loss that will surely show in the 2010 album.
And, while I didn't dislike the second album, there is no doubt that the band shifted tone after Moody left. Something of the old Evanescence is worth continuing to explore and I think there is potential for the two distinct bands now headed by Moody and Amy Lee to produce interesting music in the future. I'm looking forward to seeing what "We are the Fallen" comes up with.
This video shows promise, picking up some distinctly Fallen-esque tones. In another video of inferior recorded quality, the band performed "Going Under" almostly exactly as it sounded on Fallen.
May 16, 2009
I was thinking the other day about which (music) albums have been the most influential on me. Not which ones are most profound, but which ones have stood the test of time so that year after year they continue to established the baseline for my musical taste. Each of the following actually altered my musical taste to some degree. These are the ones that keep being played month after month and year after year. Though I lack musical performance ability, if I had the ability to compose music, I rather think it would sound like a mix of these.
5. The Screen Behind the Mirror (Enigma) — It's a bit "different," but Enigma creates a sound that is grand in scale. The interweaving of Carl Orff's Carmina Burana into a rich texture of traditional and electronic sounds creates an unforgettable, intriguing and haunting sound on this album. I'm not really sure how to describe Engima if you haven't heard it. But imagine rock, alternative, gregorian chant and classical blended together to the point that the parts are no longer really separate and you have an idea. If you haven't heard them, you are missing out on something.
4. No Angel (Dido) — I remember first hearing Dido perform on TV not long after this, her first CD, came out. I didn't pick up the CD for several years after that, but "Here With Me" immediately stuck in my head. It sets the tone very well for the whole CD. This album, like Engima, creates what I can only think to call an immensely large sound stage. It envelopes the listener into something large, somewhat dark and out of the ordinary.
3. Sixpence None the Richer (Sixpence None the Richer) — the eponymous album was my entry point into the band and remains my favorite album from them (and this comes from a guy that owns every album the group has put out so far, along with most of their singles). Few albums that I've listened to feel so much like a cohesive whole as this one, yet each song stands on its own as well. While some of Sixpence's best work is contained in their earlier albums and "Divine Discontent" is nothing to sneeze at, their self-titled album's constant, catchy and mature sound sets it apart. Capturing the experience of the band as it struggled to survive, it is full of feeling and contains a deep combination of allusions that make it a "thinking" album.
2. The Book of Secrets (Loreena McKennitt) — The gem of this album, in my estimation, is "Dante's Prayer" — an absolutely beautiful interweaving of McKennitt's celtic sound with Dante's story and an Eastern Orthodox choir. I cannot help but here it now when I read the Divine Comedy. While that is the height, the rest of the album similarly is rich in texture and filled with emotive lyrics that invoke the objective correlative.
1. Fallen (Evanescence) — What I like about Evanescence is not far off from what impresses me about Engima: it is a genre bending band that integrates classical elements into something very distinctly modern. Evanescence's heavy use of a backing symphony orchestra and chorale creates perhaps the perfect example of the postmodern juxtaposition. The dark, brooding nature is a rich musical landscape that expresses what I have come to call the "tragedy of the ordinary fate" extremely well. The high point, in my estimation, is single unit of "Tourniquet" and "Imaginary" (though neither is my favorite song in isolation) — the two tracks blend together with a symphonic musical interlude in between which is really quite haunting and I wish had been developed into something longer.
Perhaps I'll do a series on further thoughts on each of these CD's individually over the summer. I've thought a lot about them over the last few years and have been trying to objectively identify what makes them so particularly memorable to me. I'm getting closer to formulating something — there's a theme the adept observer may be able to see in what I've listed above.
In any case, what are your five? (Remember: what is the most influential to you, not what is the most profound or impressive or whatever else.)
Mar 13, 2009
Unsurprisingly, I keep hearing the Fray's new single "You Found Me" (YouTube video). It's all over the radio. For some reason, I usually hit the tail end of it most of the time, but I've listened through it a few times and it has some pretty challenging lyrics worth considering theologically (but in a different way than I think you'd expect!).
Isaac Slade writes about his song:
It demands so much of my faith to keep believing, keep hoping in the unseen. Sometimes the tunnel has a light at the end, but usually they just look black as night. This song is about that feeling, and the hope that I still have, buried deep in my chest.

Slade's statement is helpful, I believe, within the realm of the theology of art. The elegy and the dirge, the mournful cry and the bold question, have been largely thrown out of Christian art in favor of fuzzy lambs and lyrics that are best described as cheesy. We ought to note many of these share far more in common with secular "soft rock" love songs than the Psalms or other Scriptures (and no, trying to apply "Song of Solomon" to God isn't a good way to wiggle out of this — that's not what that book is about).
What we need is more honesty. We need more songs that look at the difficulties of life as, well, difficult. Like Job and the Psalmists, we should be willing to ask respectful, but bold questions. We should weep over the fallenness of the world and the brokenness of relationships.
I found God
On the corner of first and Amistad
Where the west was all but won
All alone, smoking his last cigarette
I Said where you been, he said ask anything
Where were you?
When everything was falling apart
All my days were spent by the telephone
It never rang
And all I needed was a call
That never came
To the corner of first and Amistad Lost and insecure
You found me, you found me
Lying on the floor
Surrounded, surrounded
Why'd you have to wait?
Where were you? Where were you?
Just a little late
You found me, you found me

Of course, if we stop there, if we never go beyond questioning God, that isn't healthy. But, when our music fails to meditate on the difficulties of life at all, it essentially is dishonest. This song expresses the sort of questions I think linger in each of our souls. When we are honest, that makes rejoicing later on all the more sweet.
It's time we revisit this point. Christians of the past were not afraid to express the full range of emotions, the hymnody of the past is rich with examples and literature produces thousands of examples of poetry that fits the point. In an imperfect world, we need to encourage the body of Christ to come forward and seek God's mercy with our actual life situations rather than pretending everything is perfect for an hour every Sunday morning. What we need to do is reemphasize a holistic view of life to the music written for worship and the poetry intended to be read.
We do not need more self-help books, but more God-help books. We cannot solve all of our problems any more than the Jews could solve their exile to Babylon. It took cries out to God — corporate and individual lament — and his mercy to bring them back to the Promised Land. As American Evangelicals we need to learn how to cry out to God corporately; doing so would be healthy and it would also model the properness of similar cries that we may make to God as individuals.
Dec 24, 2008
Go over to Erin Bode's MySpace page and listen to her second sample track, "the Star's Song" (you don't have to have a MySpace account, no worries). Bode is a local indie jazz musician, and I heard that song from her new Christmas CD on the radio the other day. The song is an original composition by Bode and her band. I think it is the first song I have ever heard from the Christmas star's perspective. It's worth your time, check it out.
Her Christmas CD is $18 over at ErinBode.com. I haven't heard the rest of the CD, though I'm tempted to order it.
Happy Christmas Eve!
Oct 12, 2008
Coldplay's single from their new album, which continues to get significant air time, fascinates me. I'm not entirely sure what to make of it, but there are some definite, useful themes on can draw out of it. I'm planning to use it as a discussion point in my Sunday School class either this week or next.
What does it make you think of?
I used to rule the world
Seas would rise when I gave the word
Now in the morning I sweep alone
Sweep the streets I used to own

I used to roll the dice
Feel the fear in my enemy's eyes
Listen as the crowd would sing:
"Now the old king is dead! Long live the king!"
One minute I held the key
Next the walls were closed on me
And I discovered that my castles stand
Upon pillars of salt, and pillars of sand

I hear Jerusalem bells are ringing
Roman Calvary choirs are singing
Be my mirror my sword and shield
My missionaries in a foreign field
For some reason I can't explain
Once you go there was never, never an honest word
That was when I ruled the world

It was the wicked and wild wind
Blew down the doors to let me in.
Shattered windows and the sound of drums
People couldn't believe what I'd become
Revolutionaries Wait
For my head on a silver plate
Just a puppet on a lonely string
Oh who would ever want to be king?

I hear Jerusalem bells are ringing
Roman Calvary choirs are singing
Be my mirror my sword and shield
My missionaries in a foreign field
For some reason I can't explain
I know Saint Peter won't call my name
Never an honest word
But that was when I ruled the world
Jun 28, 2008
Somehow I missed it until today when I received a "Sixpence None the Richer Newsletter" in my inbox, but it seems that my perennial favorite band has been revived after closing its doors in 2004 on friendly terms. According to the message, a Christmas album, the Dawn of Grace, is on target for launch this October (Sixpence's first Christmas album) and a new regular album is on tap for 2009. I am giddy at the prospect.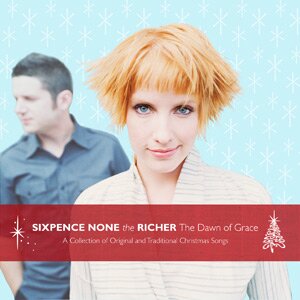 Many folks only know Sixpence for its few pop hits — typically, "Kiss Me" and "There She Goes," though their cover of "Don't Dream It's Over" gets the most airplay these days. But, if you are not familiar with the band, go on iTunes and check out some of their excellent work. Here's a quick pick from each of their albums, though certainly every album is worthy of owning in full:
From the Fatherless and the Widow: "Meaningless"
From this Beautiful Mess: "Circle of Error"
From Tickets to a Prayer Wheel (EP): "Healer"
From Sixpence None the Richer (the "Kiss Me" and "There She Goes" album): "Moving On"
From Divine Discontent (the "Don't Dream It's Over" and "Breath Your Name" album): "Still Burning"
From the Best of Sixpence None the Richer: "Too Far Gone"
From Leigh Nash's solo album, Blue on Blue: "Just A Little."
Personally, I think the album with the most standout songs is this Beautiful Mess, however the eponymous album has the most cohesive "feel." Also, don't miss the under released song, "Sad But True," which appeared on the "Kiss Me" single and on the vinyl release of Sixpence None the Richer (it's sad but true that "Sad But True" is not available on iTunes — but it is worth looking for a cheap copy of the "Kiss Me" single on eBay to get it).
Have a favorite Sixpence song? Let me know in the comments.
A few key blog posts about Sixpence over the years:
My review of "Divine Discontent". Ironically, in that review, I state, "we can only hope our 'friends' at Sixpence don't stay out of contact for five years before the next

CD.

" Given that my review was posted in early 2003, it looks like five years is about what it is going to take to hear a new recording from the band. Interesting.
Christians and Secular Music — about the anger that came from some corners of the Christian music world arguing that Sixpence "sold out" to the mainstream market.
Mar 29, 2008
So I was talking about coconut being in something today. Therefore, Harry Nilsson:
Brother bought a coconut, he bought it for a dime
His sister had another one, she paid it for the lime
She put the lime in the coconut, she drank 'em both up
Put the lime in the coconut, she called the doctor, woke him up, and said

Doctor, ain't there nothin' I can take, I said
Doctor, to relieve this bellyache, I said
Doctor, ain't there nothin' I can take, I said
Now let me get this straight
You are viewing page 2 of 5.