Jun 28, 2008
Somehow I missed it until today when I received a "Sixpence None the Richer Newsletter" in my inbox, but it seems that my perennial favorite band has been revived after closing its doors in 2004 on friendly terms. According to the message, a Christmas album, the Dawn of Grace, is on target for launch this October (Sixpence's first Christmas album) and a new regular album is on tap for 2009. I am giddy at the prospect.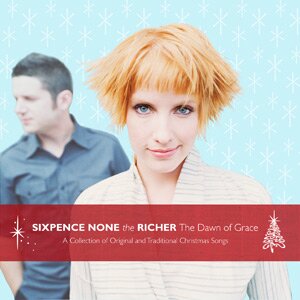 Many folks only know Sixpence for its few pop hits — typically, "Kiss Me" and "There She Goes," though their cover of "Don't Dream It's Over" gets the most airplay these days. But, if you are not familiar with the band, go on iTunes and check out some of their excellent work. Here's a quick pick from each of their albums, though certainly every album is worthy of owning in full:
From the Fatherless and the Widow: "Meaningless"
From this Beautiful Mess: "Circle of Error"
From Tickets to a Prayer Wheel (EP): "Healer"
From Sixpence None the Richer (the "Kiss Me" and "There She Goes" album): "Moving On"
From Divine Discontent (the "Don't Dream It's Over" and "Breath Your Name" album): "Still Burning"
From the Best of Sixpence None the Richer: "Too Far Gone"
From Leigh Nash's solo album, Blue on Blue: "Just A Little."
Personally, I think the album with the most standout songs is this Beautiful Mess, however the eponymous album has the most cohesive "feel." Also, don't miss the under released song, "Sad But True," which appeared on the "Kiss Me" single and on the vinyl release of Sixpence None the Richer (it's sad but true that "Sad But True" is not available on iTunes — but it is worth looking for a cheap copy of the "Kiss Me" single on eBay to get it).
Have a favorite Sixpence song? Let me know in the comments.
A few key blog posts about Sixpence over the years:
My review of "Divine Discontent". Ironically, in that review, I state, "we can only hope our 'friends' at Sixpence don't stay out of contact for five years before the next

CD.

" Given that my review was posted in early 2003, it looks like five years is about what it is going to take to hear a new recording from the band. Interesting.
Christians and Secular Music — about the anger that came from some corners of the Christian music world arguing that Sixpence "sold out" to the mainstream market.
---