You are viewing page 4 of 37.
Apr 12, 2012
This is the handiest way to calculate one's grades in a course and figure out what final grade one can still achieve in the same. I show it to my students when they ask if a certain letter grade is within reach for them.
Mar 20, 2012
I always find watching weather patterns interesting. Today, several lines of storms looked like they were on a collision course with St. Louis, but one way or another missed us. Now the forecast has the storms trying another pass through the area early in the coming morning. I keep thinking I hear thunder off in the distance, so perhaps they shall still arrive.
I do hope if we get storms that they don't put an end to all the flowering trees' displays for the year. The trees look just grand right now.
Mar 06, 2012
I had to share this here for my friends who are not on Facebook. This is the beautiful cake that was served last night at the reception after my ordination.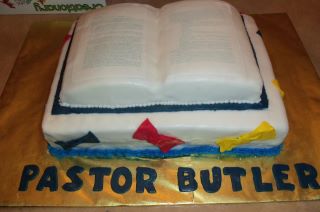 UPDATE: I should have explained it a bit since the picture I posted here is too small to see the details. The book on top is the Book of Church Order for the Presbyterian Church in America, turned to chapter 21, the chapter concerning "the ordination and installation of ministers." The bow ties adorning the sides are there since I am known to frequently wear bow ties at church. Joyce, my friend from Grace who made the cake, really outdid herself!
Feb 14, 2012
Perhaps it shouldn't be notable when it snows in the winter, but this year, it has been. Today brought the second snowfall in less than a week. And, like last time, I was on the Lindenwood campus while it lightly snowed. The scene while walking across campus today amidst big fluffy flakes was beautiful.
Delightful!
Jan 28, 2012
It is actually snowing tonight. While snow is not exactly an odd occurrence in the winter, it is odd for this winter here in St. Louis. Finally. As I write this, I can see big fluffy flakes coming down all across the backyard.
Jan 22, 2012
This week has moved at a breakneck pace. Presbytery on Tuesday was definitely the highpoint, of course. Nonetheless, the rest of the week was also enjoyable enough. I've spent it wading through some really fascinating materials on Martin Bucer, Philipp Melanchthon and medieval religious movements in England for my coursework.
Intensely studying medieval and reformation theology at the same time really helps to remind oneself of just how interrelated the two are. Clearly something significant changed when Martin Luther nailed his theses to the door. But, I think Protestants and Catholics alike — for different reasons — do history a disservice when we portray the Reformation era as essentially entirely different from the medieval era.
The Reformation was just that: reform.
Jan 12, 2012
The forecast actually has snow on the docket for this morning. After a winter thus far almost completely lacking in the white stuff, I find myself rooting for the impending precipitation. Sure, there is something to be said for not having to be out shoveling in the cold, but winter without snow just doesn't seem right.
Dec 28, 2011
Today, it actually snowed for the first time this year (at least with any accumulation). We did not receive that much snow, and it melted quickly, but I was happy to see at least a bit of the white stuff out there. The last few years, St. Louis has had a white Christmas and I was becoming quite spoiled by the timing of the snow.
At least a few times a year, it is nice if there is enough snow to really be snowed in…
Oct 06, 2011
John Gruber sums up what I think everyone was thinking:
So it goes. So it goes.

Damn it. I thought the "That day has come" line in his resignation letter implied the end was near, but, truth be told, I never gave up hope that Steve would beat this again.

What a life.
On a personal note, October 5 has long been marked as a day "in infamy" for me — my grandfather died ten years ago today.
Jan 03, 2011
I spent time on the phone with HP tech support, helping a friend get his MediaSmart home server back up and running. Working with it, I am struck that it seems to run far more quietly than the Netgear ReadyNAS I returned last summer (because of the ReadyNAS's malfunctioning fans producing noise). The unit is also a lot more hardware for the buck.
Yet, while Windows Home Server is a relatively interesting product, it feels somewhat rough around the edges. I cannot help but wonder if the fact that the system needed to be factory reset speaks of the unreliability of Windows being carried over into something on the verge of being a consumer electronics-type device. I really wish Apple would offer a full fledged NAS-like product done right.
You are viewing page 4 of 37.