You are viewing page 3 of 36.
Dec 14, 2014
Several of my friends have pointed out that today, 12/13/14, is the last day during this century in which we will have a date that is made up of sequential numbers. A date may be entirely arbitrary in the grand scheme of things, yet it makes me rather melancholy thinking that most of us will not see another day that has one of the interesting numerical patterns in it that have shown up throughout the year during the first thirteen years of the new millennium.
Enjoy 12/13/14 while it lasts!
Sep 25, 2013
I grow old … I grow old …
I shall wear the bottoms of my trousers rolled.
—T.S. Eliot
May 11, 2012
One hundred twenty-six years ago, the most influential theologian of the twentieth century was born. Yes, as one of my colleagues put it, May 10 is "Happy Barth-day." In the spirit of celebrating, I wanted to share the following excerpt from Barth's preface to the English edition of der Romerbrief:
No one can, of course, bring out the meaning of a text (_auslegen_) without at the same time adding something to it (_einlegen_). Moreover, no interpreter is rid of the danger of in fact adding more than he extracts. I neither was nor am free from this danger. And yet I should be altogether misunderstood if my readers refuse to credit me with the honesty of, at any rate intending to ex-plain the text.
Frequently Barth has been denied that credit, unfortunately, and that has meant a lot of the good correctives Barth offers concerning the modern Church have been missed by many parts of that Church. Paying attention to Barth's own care for the meaning of Scripture would help assure many of Barth's "opponents" that there might be more to the Swiss theologian than they wish to admit.
Apr 18, 2012
If there is virtually no one on a major highway connecting St. Louis and St. Charles counties, even later in the evening, that probably means most folks have heard the bridge a few miles down the road is closed due to an accident and they are using alternate routes. Not that I am speaking from experience or anything…
Apr 12, 2012
This is the handiest way to calculate one's grades in a course and figure out what final grade one can still achieve in the same. I show it to my students when they ask if a certain letter grade is within reach for them.
Mar 20, 2012
I always find watching weather patterns interesting. Today, several lines of storms looked like they were on a collision course with St. Louis, but one way or another missed us. Now the forecast has the storms trying another pass through the area early in the coming morning. I keep thinking I hear thunder off in the distance, so perhaps they shall still arrive.
I do hope if we get storms that they don't put an end to all the flowering trees' displays for the year. The trees look just grand right now.
Mar 06, 2012
I had to share this here for my friends who are not on Facebook. This is the beautiful cake that was served last night at the reception after my ordination.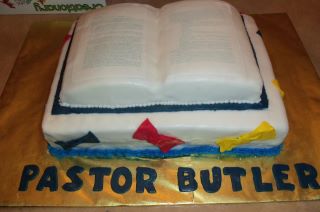 UPDATE: I should have explained it a bit since the picture I posted here is too small to see the details. The book on top is the Book of Church Order for the Presbyterian Church in America, turned to chapter 21, the chapter concerning "the ordination and installation of ministers." The bow ties adorning the sides are there since I am known to frequently wear bow ties at church. Joyce, my friend from Grace who made the cake, really outdid herself!
Feb 14, 2012
Perhaps it shouldn't be notable when it snows in the winter, but this year, it has been. Today brought the second snowfall in less than a week. And, like last time, I was on the Lindenwood campus while it lightly snowed. The scene while walking across campus today amidst big fluffy flakes was beautiful.
Delightful!
Jan 28, 2012
It is actually snowing tonight. While snow is not exactly an odd occurrence in the winter, it is odd for this winter here in St. Louis. Finally. As I write this, I can see big fluffy flakes coming down all across the backyard.
Jan 22, 2012
This week has moved at a breakneck pace. Presbytery on Tuesday was definitely the highpoint, of course. Nonetheless, the rest of the week was also enjoyable enough. I've spent it wading through some really fascinating materials on Martin Bucer, Philipp Melanchthon and medieval religious movements in England for my coursework.
Intensely studying medieval and reformation theology at the same time really helps to remind oneself of just how interrelated the two are. Clearly something significant changed when Martin Luther nailed his theses to the door. But, I think Protestants and Catholics alike — for different reasons — do history a disservice when we portray the Reformation era as essentially entirely different from the medieval era.
The Reformation was just that: reform.
You are viewing page 3 of 36.