You are viewing page 10 of 12.
Aug 10, 2003
Well, that's neat! I found World as a Blog, and when I signed on under my URL (to show I was online), I noticed Sisters' Weblog: It Boggles the Mind is also on… (hi Susan or Katie!). I thought that was kind of interesting that two b4G'ers were among the few people currently on that site. Even more interesting, for some reason it never dawned on me that the weblogging sisters aren't all that far away on the map (I should read their blogchalk entries better).
Blogging certainly does make the world seem smaller… I mean, who'd think that I'd end up running into a number of bloggers that are just a hop-skip-and-a-jump from here (Christopher, Pressed, and Le Renard)? For that matter, Jake isn't all that far from here either. Midwestern bloggers are clearly a force to be reckoned with! Perhaps we need to start a Midwestern Bloggers Association (MwBA).

Aug 06, 2003
John, Discoshaman himself, wrote me about his site. I just mentioned that I added it to my blogroll last night. Unfortunately, it seems, in the process of moving to a new location, his old site went down due to lack of bandwidth. He asked if I would mention the new address, so here ya go… If you are looking for Le Sabot Post-Moderne, stop by www.postmodernclog.com instead of the old address you may have.
Well, I've added a few good links to the ol' BlogRoll (see right) over the past few weeks. I just added Elevation, a new blog (I just got word about it!) that should prove very interesting, I think. Gavenagain is a very nice guy I know and I'm really looking forward to hearing what he has to say here.
I've also finally added a link to Darren Rowse's Living Room, a blog I've been following for some time, but hadn't linked to. It's a great blog with lots of thought provoking content. Darren recently did a cool series on "Underblogs," those of us who have blogs that aren't quite as well known.
Finally, I've added Discoshaman's Le Sabot Post-Moderne. It's somewhat of a political/culturally focused blog. I really like it so far.
Jul 30, 2003
I think I figured out what might have been causing some comments to get lost after posting. If you did post and your comment didn't stay online, please try again. I think everything should be working now.

Thanks!
Jul 23, 2003
First graphical logo for the site (circa Summer 2001):


Pre-asisaid.com logo (circa April 2002):


Old logo (circa March 2003):


New logo (circa right now!):


So, which one's best? Yeah, I know, don't quit my day job.

Jul 19, 2003
I can't say I've completely gotten my mind to grasp what this is suppose to do, but here's something intriguing at any rate. It's called a Blog Coop (Web Log Cooperative):
Blog Cooperatives are businesses jointly owned and operated by their members. BlogCoops are for-profit ventures that embrace emergent democracy as a means for governance and decision-making.
Here is the site if you want to read more about it. Thoughts?
Jul 17, 2003
Kevin, perhaps in a lapse of judgment, has invited me to write for The Sakamuyo Network. TSN has been Kevin's blog for over a year now, and more recently he has added two other authors. Now with me, there are a total of four bloggers writing on Sakamuyo providing all kinds of bloggy goodness.
So if Asisaid.com hasn't succeeded in driving you crazy already, now you can get more of the Asisaid guy himself at Sakamuyo (Kevin's always insightful posts will continue to be there as well).
Jul 08, 2003
We'll I hate to be late again, but things just haven't been on my side the last two days for blogging. I had hoped to get the Ozark review up last night but some small stomach bug got me and laying down felt much better than blogging. Today I had some urgent work to do and a long committee meeting (which had some issues I'm still grumbling about) at Church, so I guess my post will have to wait until tomorrow. See ya then.
In the mean time, I should add that I saw a woodchuck the other day coming home from some errands. This is rather unusual as I was on a fairly busy highway. He was just sitting on the side of the road, watching the traffic. Perhaps he was pondering one of life's deepest questions: "How much wood could a wood chuck chuck if a wood chuck could chuck wood."
May 29, 2003
The first monthly BlogShares Player Securities Board vote has begun and will go for one week. PLEASE vote and let your voice be heard. I'd appreciate your vote in my "campaign" for a Free and Fair Market (just vote Timothy Butler on the ballot), but even if you choose to vote for someone else, it's good if you do exercise your cyber voting privilege.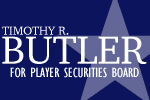 Click the button to be taken to the BlogShares Voting Page
May 28, 2003
With a small schedule today, I slept late this morning. Big mistake. My schedule grew and today ended up being crazy. First, a fire, or something like that, took down all sites my company sells hosting services to (through our hosting provider). That was at around 10:00
A.M.
and didn't clear up until after six this evening. For those who are curious, here is the explanation I sent to my clients:
At approximately 10:00

A.M.

Central Time this morning, Network Access
Corporation's (NAC) Site B datacenter in New Jersey, where Universal
Networks' name servers are located, had its fire suppression system activated
after what appears to have been the explosion of a [capacitor for a] uninterpretable power
supply located in the building. This resulted in the loss of power and
consequently the loss of access to Universal Networks' internet properties.

At 11:00 A.M. Central Time the fire department allowed NAC personnel back
into Site B, however due to various circumstances, the section of the
datacenter housing Universal Networks' nameservers, and those of our hosting
affiliate, were left without power until after 6:00 P.M. Central Time.

Everything now appears operational again.

Thank-you for your understanding.

-Tim
Then, to make things more interesting, the Linksys ethernet router I installed for my church was on the brink today (I think I have "collisions" going on with DHCP assignment). Between the two events I had to squeeze in some actual work.
And speaking of work, the most interesting piece of it was writing on the on going SCO-IBM conflict. That conflict now envelopes Novell and Linus Torvalds too. I was going crazy today not being able to put anything about it on OfB.biz (not to mention going crazy because no one could access the article I put on OfB.biz last night).
At any rate, hopefully things will calm down now. I haven't forgotten about finishing my trip summary (complete with traveling tips for those going to the Ozarks), but I didn't want to rush putting together the second entry. It'll be on soon, however.
You are viewing page 10 of 12.