Jul 12, 2005
This is my June entry in Flip's Photo Quest (number 18). I don't have much of an excuse for being late, but I do have an excuse for being this late: my main computer, with all of my graphics software, is in the shop. I was going to wait to import the photos until I got it back, but I decided to try out Google's Picassa 2 on my Windows XP box and see how it worked. As it turned out, it worked quite nicely.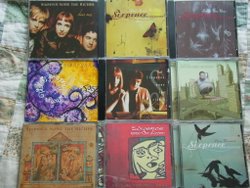 1. My best collections are Christmas related, but I decided I'd save that for some other photo, when I can show something that is actually well dusted and on display. I collect a lot of books, but who wants to see a messy, disorganized bookcase? With that in mind, the collection I present is my newly finish collection of Sixpence None the Richer albums.
Clockwise from top, left corner: Kiss Me (Original Single with "Sad But True") [1997], Breathe Your Name (Single with "Northern Lights") [2002], Don't Dream It's Over (Single with "Don't Pass Me By") [2003], the Best of Sixpence None the Richer [2004], Divine Discontent [2002], this Beautiful Mess [1995], Sixpence None the Richer (newer version with "There She Goes") [1997 [There She Goes - 1999]], Tickets for a Prayer Wheel (EP) [1996], the Fatherless and the Widow [1993] (in the center). That is everything that was released with the artists' apparent blessing; their former label has released several "best of" releases that simply take some tracks from Tickets to a Prayer Wheel, This Beautiful Mess and the Fatherless and the Widow, whereas the only "best of" mentioned above had unreleased tracks on it and came from the label the band ended its career with.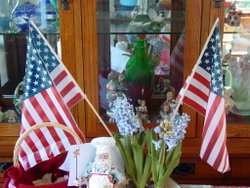 2. A flag, well, two, actually. I thought about hunting down a Missouri State Flag to go along with this, but you can just see that here.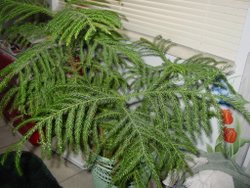 3. This Norfolk pine (araucaria excelsa) is something I've grown; I have a larger one as well.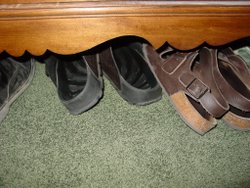 4. My shoe shelf, is really just my shoes stuck under my dresser. Does that count, Flip?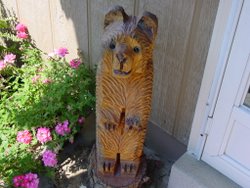 5. Here's what was once a tree stump. I actually saw this guy carved by someone who was very, very good with a chainsaw. There was a whole group of chainsaw artists that setup shop in Branson years ago, and this one came home. I cannot remember the price, but for all of the work, it was really reasonable. He hasn't been refinished for six years, so this year he is waiting for a new coat of spar varnish.
---