Jun 09, 2005
This is my May entry in Flip's Photo Quest meme. I was a very bad boy — this should have been up by mid-May at the worst, but here we are approaching mid-June and I am just finally getting it up. I shall try to do much better with the June PQ.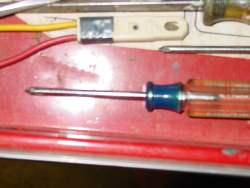 1. A tool, more specifically a screw driver. As someone who is not mechanical, my main use for tools is connected to my work with computers. That means this is the most indispensable tool in my arsenal, other than my Leatherman multi-purpose keychain knife/screwdriver/plyers, etc. thingamabob (but Flip prohibited taking pictures of Swiss Army knifes for this particular assignment).
2. There is no number two photo because I do not wear a spring jacket for "when the temperature is between 10 and 18 degrees Celsius (50-64 in Fahrenheit, I think)". I have a blue, thinner jacket I wear for when temperatures are in the mid-to-low 40's and below, but nothing in Flip's range. In fact, my general rule of thumb is that the shorts come out when temperatures hit 52 degrees Fahrenheit (11.1 C).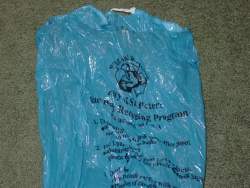 3. This is the container where recyclables are placed when I am a good, ecologically concerned citizen (which, I'm afraid, isn't as often as it should be). Welcome to the St. Peter's Municipal Blue Bag program. Stick your goods in the bag and throw it in your municipally assigned Big Green Beast trash can. Some poor guy at Recycle City (yes, they call it that) gets to dig through all of the trash and pull out the Blue Bags. Ick!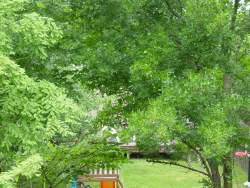 4. That is the neighbor's swing set, the closest playground equipment from my present, secret, undisclosed location.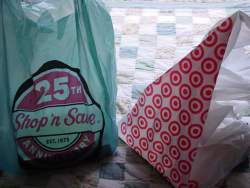 5. Two plastic grocery bags, one from Shop 'n Save, a local division of grocery behemoth SuperValu, and the other is from — you guessed it! — Target.
---