Apr 24, 2005
As I said yesterday, I'm not now participating in Flip's Photo Quest meme. Here are the photos and accompanying descriptions for this month's quest: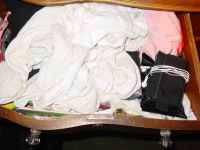 1. This is my sock drawer drawer, which also collects other miscellaneous stuff, such as my iPod, which you can see in the small black case on the right side. Normally there are some black socks in there that would add contrast, but none of them are clean at the moment.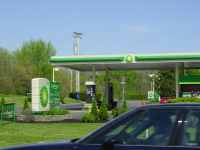 2. The second photo is of a gas station. This one is a bp station, located in Chesterfield, MO, that was converted from an Amoco last year. The picture size makes it a bit hard to see the prices, which were $2.10/gallon for regular unleaded and $2.20 for "silver" unleaded (though unlisted, I presume premium was $2.30). All prices have 9/10 of an additional cent on them, so you might as well round up a penny. This was taken last Saturday, and was about in the middle of the range between QuikTrip at $2.05/gal. and a ConocoPhilips station that was charging $2.15/gal. For my European friends, that is €0.42/liter (or $0.55/liter).
3. A generic, empty electrical wall plate. Normally this one is behind some equipment, so it is rarely used.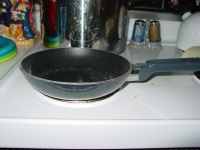 4. This is my beloved omelet pan, which I submit for the frying pan portion of the quest. This pan is just the right size for a nice, fluffy three egg omelet. It hasn't been getting much attention lately, however.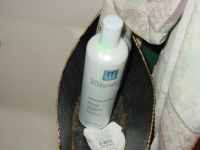 5. Some shampoo. I'm not picky brand wise.
---