You are viewing page 2 of 5.
Jul 18, 2008
This year is the 90th anniversary of the Muny, St. Louis's municipal outdoor theater (as I understand it, the oldest and largest in the country). I went to see a special celebratory show tonight that went through favorite music from the past 90 years, from its early operettas, through Oklahoma, past the King and I and the Music Man, all the way up to Cats and Beauty and the Beast. It did not have a story per the usual show, but it was fun, colorful, exciting and featured excellent talent, as always. I highly recommend you catch it, if in St. Louis this week, before it ends. Remember, in addition to the pay seats, the Muny has free seats, so you have no excuse to miss this show!
Oct 28, 2006
Wow! Woohooo! What else can I say? WOOOOHOOO!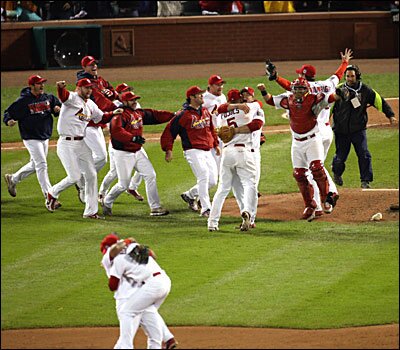 SOURCE

:

STLTODAY.

com
How amazing. And an amazing team — Molina, Rolen, Eckstein, Pujols, Edmunds, Reyes, Weaver, Carpenter, Wainwright and the rest performed amazingly. How wonderful for them to allow Cardinal Nation to see a World Series win in the brand new Busch Stadium — the first time since Yankee Stadium in 1928 that a team won a World Series in its own stadium during that stadium's inaugural year, I am told.
It's only been a few years since we lost Jack Buck, but I'm sure he'd be proud of the team and his son, Joe Buck, who did an amazing job too. Slam-a-lama-ding-dong indeed!
But, to again quote the senior Buck, "GO CRAZY FOLKS, GO CRAZY."
The best team, with the best fans, in the best city. Yup, once again St. Louis is Perfectly Centered, Remarkably Connected. Woohoo!
Oh, a question to Mark: you correctly reined in my enthusiasm in calling the 2004 NLCS victory of the Cardinals a "trouncing." I think I can use it completely justifiably now, right?

So far so good, we have one nothing in the bottom of the third. Let's Go Cardinals!
Oct 27, 2006
OK, so now it is 3-1. I don't want to get too excited yet, but would one more win tomorrow night be too much to ask? Apparently, it has been since the New York Yankees in 1928 that a team won the World Series in its own stadium during the first year of that stadium. With this being the Busch Stadium III's first year, that'd be an interesting record to break.
It was quite a game — far more eventful than the last few, but I'm not sure I really need it that eventful. Hopefully the Cards can beat the Cheat-ahs tomorrow by taking an early lead or maybe doing another shutout like they did in Game 3.
Waddya think?
Oct 26, 2006
Well, Game 4 of the World Series was delayed because of rain tonight. With more rain on the way, I wonder if the Cards will get to play tomorrow? I hope this doesn't hurt the momentum that has allowed them to get a 2-1 lead so far…
Oct 22, 2006
What a game! What a team! Go Cards!
Yes, for those of you new to following asisaid (now simulcasting on Facebook), I usually have to make my once-a-year sporting comments during the post season (2004 [1 | 2 | 3 | 4], 2005)… and here it is again. I am admittedly spoiled by the luxury that the Cardinals are usually in the post season, of course. Cardinal Nation is excited right now, folks. We've got out boys back in the World Series for the second time in two years and with an amazing first game! 7-2, for those who somehow missed it.
Anthony Reyes really pitched an amazing game in his perfectly ironed cap and long socks. How appropriate: the underdog team (we're always the underdogs, aren't we?) wins the first game of the series we weren't suppose to make it to using a "sacrificial lamb" pitcher. Wooohoo! I say it is time for the Cards to regain the title of World Series champs. La Russa has managed to keep the team's momentum going at an amazing rate for years now, but has not yet returned to the Cards the title we last held in 1982. Let's Go Cardinals!
I might not be the typical sports following type guy, but how can I not love baseball with a team like the Cardinals?
Oct 20, 2006
That's all that needs to be said right now. It's 1-1 in the 8th inning.
Update (10:20 CDT): Make that 3-1 in the 9th. Slam-a-lama-ding-dong. GO CARDS!
Update (10:37 CDT): Please strike out the last Met. Please?

Oct 14, 2006
In this week's TQ from Mark, we consider important issues of pop culture:
1. 42 or 2001
42, of course. It is the answer to Life, the Universe and Everything.

2. 33, 32 or 23
No idea.

3. ET or AI
Is that maybe "Alf"? If so, then Alf. If not, I'm not sure.

4. Yacko, Wakko, and Dot or Bugs, Daffy and Porky
Bugs, Daffy and Porky.

5. T1, T2, or T3
I do not believe I've ever seen an entire Terminator (though I've seen parts of at least T1 and T2).

6. Captain Picard, Captain Malcolm Reynolds, or Commander Jeffrey Sinclair
Who else but Captain Picard? Who else can "make it so"?

7. TRL or Headbangers Ball
No idea.

8. Beavis and Butthead or Itchy and Scratchy
Itchy and Scratchy.

9. Harry or Frodo

Probably Harry, although I'm just getting to know Frodo.
Extra credit:

vi, emacs or pico
Pico. Vi is evil; and, I want a text editor, not an operating system, so Emacs is out.

Note: The questions on this page written by Mark are governed by the Creative Commons BY-NC-SA 2.5 license. I believe my responses are allowed under fair use and therefore are not licensed under the Creative Commons license (I don't want people messing with adapting my personal opinions, thank you very much).
Oct 07, 2006
I see I have some new blog comments — sorry I've not read them yet and I think it is time for me to hit the sack. For now, the latest questions from Mark.
1. What did you watch on TV when you were a kid?
Not much. Some cartoons, the cheesy old Batman reruns from the 60's, that kind of thing. But really not that much. I didn't "get into TV" until I became a Trekkie. Reruns of Star Trek episodes beckoned.

2. What do you still enjoy watching from your youth?
Very little, up until I got into Star Trek when I was eleven or so.

3. What new tv programs have you seen that you enjoy?
I can't think of any. The last new show I really enjoyed was Debbie Travis's Facelift — but that was a few years ago. I'm not sure if it is still on.
(As a side note, lest someone think I've been making grave punctuation errors, I do know that putting an apostrophe and an "s" after an "s," as in "Debbie Travis's Facelift" was incorrect in the past, however in the latest editions of the Modern Language Association's style guides, they declared this formerly taboo style of punctuation as the endorsed way to denote a possessive ["genative case"] in English — even for words ending in "s.")

4. Which show(s) can you not stand?
Most.

I can't stand ones with absolute moral garbage; I also have a low tolerance for reality TV, poorly thought out news "magazines," overly dramatized storylines, bad music, B-quality science fiction…
I'm picky, what can I say?
Note: The questions on this page written by Mark are governed by the Creative Commons BY-NC-SA 2.5 license. I believe my responses are allowed under fair use and therefore are not licensed under the Creative Commons license (I don't want people messing with adapting my personal opinions, thank you very much).
Sep 16, 2006
Every year, St. Louis's Forest Park is host to the "Great Forest Park Balloon Race," the largest (by attendance) hot air balloon race in the U.S. Often times on the Saturday of the race, the balloons will drift all the way to St. Charles, and I'll have the pleasure of observing them float by. This year, however, I saw them up close. The night before the race, there is a "Balloon Glow," where the balloons are inflated and illuminated (by their burners) for the public's enjoyment. It was extremely crowded, but well worth attending.
I took 600 or so pictures this evening, so I need to sort through them, but once I do, I'll post some of my favorites (including the ever popular Energizer Bunny balloon, which really stole the show).
You are viewing page 2 of 5.