You are viewing page 33 of 34.
Apr 25, 2003
By Tim Butler | Posted at 7:27 PM
Apr 19, 2003
By Tim Butler | Posted at 1:35 PM
Apr 04, 2003
By Tim Butler | Posted at 8:06 PM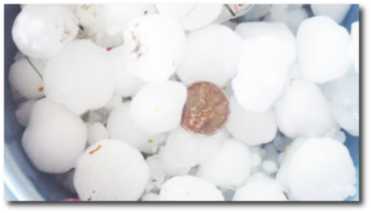 What a mess! The second storm pulverized the flowering trees breaking off branches and leaving dozens of just opening dogwood flowers on the ground under the piles of ice. The Zuni Crabapple was also hit hard with hundreds of little pink buds lacing the sidewalk… what a shame, it would have been a spectacular showing on that tree this year.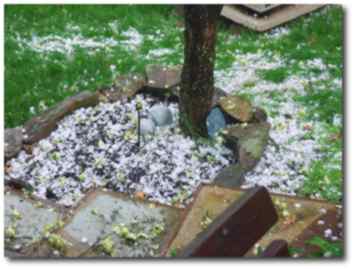 Trees were not the only thing left damaged either. The guttering on my western wall has a new indentation going in about an inch from its original (flat) position and the neighbor's dingyless van is dingyless no more (my neighbor, who works at Ford, had just repaired the van from last year's hail damage). Fun.
Anyway, the oddest thing of all was how it came and went. During the whole ordeal, the sky was partially blue and we only got a short spell of rain right before the first batch of hail, so it was a rather interesting weather pattern to say the least. The Zuni still has some buds, so I'm hoping an encore presentation doesn't do those in too.
I wonder if anyone else in the region got hit by this storm?
Mar 06, 2003
By Tim Butler | Posted at 6:26 PM
Covey is the author of the book The 7 Habits of Highly Effective People, and one of Time's 25 most influential people. He was really impressive. Never during the lecture did you get the impression that Dr. Covey was speaking "down" to the audience — in some ways it seemed almost like a 1-on-1 conversation.
He emphasized integrating one's life and setting a personal missions statement. To set goals and stick to them. To not compromise when working with others but listen to each other until you can "synergize" instead. To "live, love, learn, and leave a legacy." Lots of good stuff in there, to be sure.
The jist of his message breaks down to these four points which I thought were excellent:
Body: Assume you've just had a heart attack and eat and live accordingly.
Mind: Assume your career has a two year "half life" and act accordingly.
Heart: Assume that everything you say about anyone is heard by them, and speak accordingly.
Spirit: Assume you have a 1-on-1 quarterly discussion with your Creator, and live accordingly.
All of this sounds fairly simple, but a heathy dose of common sense is perhaps what this nation needs. It seems that one grade school back east that adopted Covey's program saw their standardized test results go from the 62 percentile (IIRC) to the 92 percentile in just 18 months.
Dr. Covey made some really good points. For example, on leadership, he noted that leadership isn't a position, it's a way of working with people. Management is a position. Leadership is "showing people their value so that they feel motivated to live up to it." He noted that some of the greatest leaders of all time didn't even have an official title or position. How true.
I just happened to get a third row seat in the auditorium it was in, which gave me the opportunity to walk up and meet Dr. Covey afterwards. I even got a signed program!

Anyway, it is getting late and I'm tired, but I wanted to write a little something about the event. While most of his lectures, I think, are somewhat focused on the business management world, I really don't see any reason why you shouldn't attend if you get the opportunity, even if you aren't in that sector.
Feb 23, 2003
By Tim Butler | Posted at 5:58 PM
Feb 19, 2003
By Tim Butler | Posted at 10:21 AM
I was just thinking about this as the radio personalities at KMOX have spent the day discussing the murder of long time personality Nan Wyatt, the host of the "Total Information AM" program. It's odd, I'd never met Wyatt, but it still was something that gave me pause when I first heard of the news on the radio this morning.
Certainly this isn't something that is just me either. I was amazed at all of the heartfelt responses from callers to KMOX today. Even major figures like Gov. Bob Holden and Sen. Jim Talent took time out of their day to express their sympathy and talk about Wyatt's impressive skills as a host and interviewer.
Radio is special like that, in both sad times like this and good times. I don't have any glitzy ending for this, but I just felt likesaying that right now.
Feb 18, 2003
By Tim Butler | Posted at 4:19 PM
Feb 01, 2003
By Tim Butler | Posted at 7:05 AM
Jan 28, 2003
By Tim Butler | Posted at 6:13 PM
Dec 24, 2002
By Tim Butler | Posted at 7:57 PM
You are viewing page 33 of 34.