Jul 20, 2010
By Tim Butler | Posted at 12:11 AM
My friend Dennis Powell writes:
I don't mean to be cranky here. Please forgive me if I think it's a little nutty that the phrase "with sea salt" is considered good when that phrase might mean "contains fish poop."
When you put it that way…
Jun 19, 2010
By Tim Butler | Posted at 12:55 AM
As Wikipedia notes,
St. Louis-style barbecue sauce is generally tomato-based, thinned slightly with vinegar, sweet and spicy. It is not as sweet and thick as Kansas City-style barbecue sauce, nor as spicy-hot and thin as Texas-style. A St. Louis-style barbecue is not complete without copious amounts of sauce.
That is what makes St. Louis-style sauce so good. Just the right combination of sweet and spicy in a sauce just thick enough to properly coat the meat.
Jun 13, 2010
By Tim Butler | Posted at 12:41 AM
I just found out that the cows favorite restaurant chain is building a location just a few miles down the road from me. This is simply too exciting! How did I ever go through life without knowing about Chick-fil-A for so many years?
I am not quite sure, but in any case, I am really glad they are coming to St. Charles.
Jun 05, 2010
By Tim Butler | Posted at 1:09 AM
Chick-fil-A has introduced its first new sandwich in about 20 years, apparently.
While I'd say it does not surpass the original Chick-fil-A sandwich, the new Spicy Chicken sandwich really is an excellent twist on the original. I was able to get one of the reservations the chain offered to preview one this past week and it had just the right amount of spice to give the sandwich character without having the heat overwhelm the mild but delightful Chick-fil-A flavor. Unlike some spicy chicken sandwiches, the additional spices complemented rather than changing the overall taste of the sandwich — a good thing in my book!
If you enjoy a little kick in your food, next time you are by a Chick-Fil-A, it would be worth trying out their new creation.
Feb 24, 2010
By Tim Butler | Posted at 11:00 PM
This commercial is just brilliant in its absurdity. It is a sequel to one from last year.
Jan 14, 2009
By Tim Butler | Posted at 2:40 PM
As someone who aspires to the title of theologian (though has in no way earned the right to it), I certainly believe theology is important. Clearly when we are talking about God, there can be few things more important than understanding him and his will as well as possible. But, the greatest gift from God is not teaching of doctrine or something along those lines, but love (1 Cor. 13.13).
What does that mean for us in general? We as Christians put too much emphasis on right doctrine as if it could save us. We are functionally working as those saved by doctrine alone — the specific doctrine a given person favors is of little consequence. The other day, my wise professor Dr. Jay Sklar was relating to us a story about another faculty member at Covenant who was in Scotland. That person observed that when Christians are only a two in a hundred statistically, suddenly our little dogmatic skirmishes seem less important and simply finding someone else with whom one shares the Apostle's Creed seems enough.
In many ways, it is.
That is not to say all the minutiae is unimportant, many things within the realm of Christian dogmatics are utterly important. But not as important as the core truth of the Gospel: that the one, sole creator God of the universe was incarnate among us, died for us and restored us into a body of which he is the head. That's the heart of our story. It is not the end of our story, but the beginning which convicts us and leaves us with no choice but to make every theological confrontation within the bounds of historic Christianity one of brotherly or sisterly love.
If only we lived this principle, if only the world would truly "know we are Christians by our love," then we would be doing the will of God. Let us not mistake doctrinal purity as our mediator with God; our ancient predecessors learned the dangers of misplaced mediation after they failed to head the prophet Jeremiah's warning, "Do not trust in these deceptive words: 'This is the temple of the LORD, the temple of the LORD, the temple of the LORD'" (Jer. 7.4 ESV).
What does God truly desire of us? Micah tells us (v. 6.8)
He has told you, O man, what is good;
and what does the

LORD

require of you
but to do justice, and to love kindness,
and to walk humbly with your God?

I would rather serve all day alongside a Christian full of love for God and for those around him, but with messed up doctrine, than an hour with a Christian of great doctrinal strength and a condescension for all those with less perfectly constructed theological constructs.
Jan 22, 2008
By Tim Butler | Posted at 1:31 AM
I am not sure why, but I am terribly hungry for steak fries. The problem is that I cannot think of any place in the area that serves steak fries! I'll have to get some next time I'm in St. Louis County, I guess.
Why an I telling you this? I'm not sure!

May 22, 2007
By Tim Butler | Posted at 11:47 PM
I last ate at Tony's about eight years ago and had their "White Chicken Nachos" (chicken, white cheese sauce and nachos). I met a friend there today after he found a coupon for Tony's lunch buffet in the paper. I didn't recall them having a buffet before — perhaps they did, but I think they've expanded quite a bit since I was last there — but it sounded interesting to me.
What a pleasant surprise! They had toasted ravioli, numerous St. Louis-style pizzas, a beautiful salad bar, white chicken nachos, some kind of chicken, burgers, two soups and cake on the buffet. I had the majority of those things and probably far more of them than I should have, at that. The pizza was quite good and I love toasted ravioli, so that was a treat. The cake was good too. Normally, the buffet is $6.99, but with the coupon it was a dollar or two cheaper than that.
All I can say is, if you happen to be on Main Street in St. Charles on a weekday, give Tony's a visit. I was pleasantly surprised and I think you would be too.
Apr 25, 2007
By Tim Butler | Posted at 9:23 PM
I had never eaten a Chick-fil-A before I started at Covenant. However, I heard from many of the students around campus about the "high holy day" of Wednesdays, when Chick-fil-A showed up on campus and had food for sale. Part of this can be explained by the total lack of hot food for sale on or near the campus the rest of the week, part of it can be explained by those looking for a bit of a taste from the South (particularly since many CTS students are from the South), but apparently Chick-fil-A can just generate a following beyond those reasons.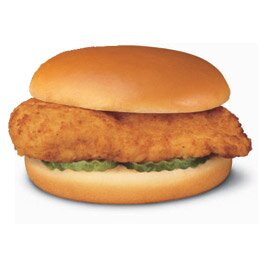 The funny thing is, I've probably had seven or eight Chick-fil-A meals this semester, and I'm starting to look forward to that special day of the week myself. Yesterday, I was at a local mall after lunch and happened to walk through the food court, which has a Chick-fil-A. They were giving away samples, and I had a nugget. After eating that nugget, I knew I really needed to get my Chick-fil-A sandwich today, along with their tasty carrot and raisin salad.
It doesn't hit me like "the Crave" for White Castle, but I am none the less craving a simple chicken sandwich. Interesting.
Mar 06, 2007
By Tim Butler | Posted at 10:33 PM
I know what all of you are asking. "Tim, if I happen to be driving down Hwy. 47, by Cuivre River State Park, where should I stop to get a nice, tasty lunch?" Well, of course, I have an answer for that most frequently asked of questions: the Park Side Mini-Mart. It's a little Sinclair gas station that looks, uh, decrepit. But, amidst the standard convenience store stuff, and some fishing supplies, you'll notice a little deli area. Between October and April, they have home cooked chili every day, which can be served a number of ways — I recommend the $3.00 Frito chili pie (cheese, fritos and chili). It is the best chili pie I've had the pleasure of eating.
But, they tell me that their most popular food item is the cheese burger. It looked good too, and they make the patties there rather than having some kind of pre-pressed burger, although I've not yet tried one. I have tried their french fries, which are crinkle cut and reminiscent of some little diner — that is, they are really good, if not terribly healthy. Deli sandwiches? Yup, they have them. Pizza? Yes, apparently they even have a breakfast pizza. They even have some kind of cheesy cauliflower dish. I found out today they've actually been at this business for thirty years.
So check 'em out next time you are just outside of Troy. I think you'll be pleased.