You are viewing page 3 of 8.
Oct 14, 2008
By Tim Butler | Posted at 23:19
LXXVIII. Oh strange breeze
That blew past me four years ago,
Let thy wind return.
LXXIX. A flea fled to me,
And then I was Donne away,
How much past has past.
LXXX. Familiar autumn,
Lean thy kind embrace on me.
Hint again of then.
Aug 22, 2008
By Tim Butler | Posted at 0:21
LXXVI. Rain drops heavy on roof
Tears remembering the past,
Another life ago.
LXXVII. Crickets chirp as then,
But so much else has changed, set.
Oh, rewind, cruel time!
LXXVIII. A miraculous
Vision one lept year prior this.
Faded now — old ink.
Jan 18, 2008
By Tim Butler | Posted at 1:04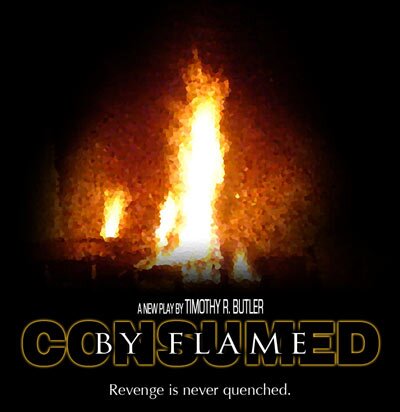 One of my projects last semester was to do historical research on a period of Presbyterian history and present it in some form, be it a research paper, a time line, or something else. Starving for some literary time, I decided the obvious choice was to again dabble in the realm of drama. The result was Consumed by Flame. I've mentioned it a bit before, but here are the gory details.
The drama takes place in 1540s Scotland, at the beginning of the Scottish Reformation. The particular inciting incident is the arrest of George Wishart, the Protestant Reformer, by his adversary, David Cardinal Beaton. It is a very interesting piece of history not just for the showdown between them, but for its lasting and serious aftershocks. To what extent did these events bring about the good of the Reformation and to what extent the bad? To what extent did it shape the negative events of later Scottish religious history? The play tries to engage with some of these questions at their root.
From a formal standpoint, the play follows the classic five act structure favored by Shakespeare. It is almost entirely a prose play, however, unlike many of Shakespeare's works. Besides the Bard, the style of the play was influenced primarily by Aeschylus and Marlowe. Of course, I do not claim to emulate any of these greats well, I merely note where I got the inspiration. Weighing in somewhere between Kit Marlowe's Doctor Faustus and Shakespeare's Merchant of Venice in length, I estimate a performance time of approximately two hours, if it were put on stage. I like playing with darkness and light, and, weaving a story that peers into the psyche, and this play follows on those themes, though not as much, perhaps, as Deafening Silence did.
Well, if this has piqued your interested at all, and you would like to take a gander at the script, please let me know. I am looking for some comments on what works and what does not in the play. If nothing else, you'll get all of the footnotes and the works cited page, which will give you some nice material to go on, should you desire to do some historical research.
Jan 16, 2008
By Tim Butler | Posted at 0:54
LXXIII. How a moment past
Once simple seemed, transformed now
To something precious.
LXXIV. Time's cruel wings beat on,
A steady drone unceasing,
As I glance backward.
LXXV. Speak, dear friend, a word,
Ambrosia is a voice heard,
After too long a pause.
Dec 23, 2007
By Tim Butler | Posted at 0:25
LXX. Oh Divine wisdom
Pour upon my wearied soul,
Lead me in this time.
LXXI. Foolish as I am,
For the want of a current,
I lost the trickle.
LXXII. Uncaring winds about,
They heed not now nor ever,
The broken and lost.
Oct 15, 2007
By Tim Butler | Posted at 23:24
LXVII. Odd night of fading past,
Yesterday, and now three years,
Trickle to a flood.
LXVIII. A new reminder,
That October into May.
Came unthought today.
LXVIX. The silence denotes
The long past sorrows of Time,
Never glancing back.
Sep 10, 2007
By Tim Butler | Posted at 22:27
Oh, blood red moon, what fates do you observe,
And behind your cloudy curtain dare to speak?
Illumined now, illumine those who seek!
Your words — strike would they a tender nerve?
No, I do not ask about some famous quest,
Of tragic heroes or of noble paths —
No journey here, and no fate deeméd deaths —
A simple matter really, my only test,
The tragical matter is naught but this:
The suffering of the ordinary fate,
Too plain to be marked by one or all,
No matter of lost Troy, fall'n unto abyss,
But of a worm placed on a hook as bait,
Before his life was spent or fulfilled his call.
Aug 27, 2007
By Tim Butler | Posted at 23:09
My reflection stares back at me in the glass,
A green bug and a moth sit on the pane,
My thoughts run wild and wonder what I've done,
The thoughts and things that I have left unsaid.
O Moth, what thoughts run in your head tonight,
You silent winged creature in dim twilight?
Unlock the stories that remain untold
In the unblinking eyes of the reflected man
Who looks about the darkened window pane.
Do you know where you'll go in the morrow?
What insight can you give of the reflected's fate?
What grieves the eyes that look back in the glass?
As you flutter, impart some wisdom now.
Do you know the balance of time you borrow?
Jun 20, 2007
By Tim Butler | Posted at 23:07
So, I had a poetic breakthrough today. I've been fiddling with a 44 line poem since last fall. I'd work on it a bit, then leave it. It's grown slowly, starting from just a few small lines. But, I've had a growing sense it needed to be part of a much more ambitious work to really reach my goals for it. I am trying to experiment with the modernist style of T.S. Eliot, fused with my normal iambic pentameter, rhyming verse. I'm clearly no Eliot, nor is my goal to nail an imitation of his style, but rather I am trying to apply some lessons from his poetry to make my own style a bit less of a pseudo-neo-Classical style with too much raw emotion. Eliot advises, and I think for good reason, that the poet's job is to distill raw emotion into what the New Criticism dubbed "the objective correlative." That term refers to creating objective descriptions that evoke particular emotions rather than merely describing the emotions themselves. A great example comes from Archibald MacLeish's "Ars Poetica," which states, "For all the history of grief / An empty door / And a maple leaf." Think about those lines for a moment — does not "An empty door / And a maple leaf" describe a biting grief far better than any direct description could likely provide?
At any rate, I'm not exactly a fast poet, but I managed to write another 78 lines today, consisting of parts of two more poems. Quantity is not how one should measure poetic success, but it is the way one measures how close one is to completing the framework of a project.

The project now may include up to ten poems which will form a larger poetic sequence. My original poem fits in as the third poem in the sequence.
Here are the first lines as they presently are written:
Shadows mark untrue casts of reality,
A silent world lacking validity,
Those visitants dance and flicker as
The dark wood, staid oaks and pines, sway now.
An ache beyond the words I know, will know,
Illude my muse to sing out in any key.

May 27, 2007
By Tim Butler | Posted at 22:35
---
Agent Mark Douglas watched his partner Cassandra Myers as she continued to hold a lively conversation with the department's chief investigative officer. He smiled a sad, melancholy smile. If he let his eyes close part way, as they were apt to do this time of night, the blurred figure of Myers reminded him of Jess Hudgins. Hudgins had been his best friend through college, often prodding him to finish assignments when he did not feel like it and spending time talking about whatever caught their fancy, as they sat on a bench in the quad. She was, in his estimation, absolutely perfect and he had fallen deeply for her, but though he was apt to offer a compliment, he never volunteered that much too her. She was his dear friend and, well, that he was just fearful to say anything that might wreck that.
Myers had slapped her phone closed at some point, but Douglas was off into the past. Cassandra sighed, why was Douglas always sitting there with a stupid look on his face while she dealt with the idiots back at the office? He was going to have to talk to them next time. She called out his name, but he was oblivious. A little sharper — "Mark!"
He finally came to. "Oh, yes, sorry Cassie, I was just thinking."
"Yes, I know, thinking, thinking. There's too much of that going on around here! You know who thinks this case isn't really worth having an investigative team on — he wants to chalk it up to small time vandalism! Is he insane?"
"Small time vandalism does seem a bit of a lightweight accusation against someone going from church to church and hacking off their doors. I'm not sure how bad this is, but it is at least odd enough to warrant a little investigation."
"That's what I told him. He said we'd discuss it in the morning, but we could stay on it for at least a few hours."
---
Thomas looked outside from his laptop and noticed that the agents were no longer on the phone. He closed the lid of his laptop and walked out side.
"Wouldn't you too liked to come back in? It is such a nasty night out there," he said, gesturing towards the glowing light of his kitchen. The agents shrugged and started to walk toward him when a small clicking sound just loud enough to be noticeable came from somewhere near where the front of the church had been vandalized. All three turned and looked toward the gaping hole where the door had been just in time to see a bright flash of light and here a sickening boom. The three were knocked to the ground.
"Skotia Thelossa," Thomas muttered to himself. "It is going to kill me."
You are viewing page 3 of 8.